Thank you for the feedback last week related to the revised format we're considering for the Hedgeye Hot Sheets (to be renamed Hedgeye Best Ideas). For those who have not responded, please take a moment to review the revised format of the stock report and let us know what you think.
Please send your thoughts to feedback@hedgeye.com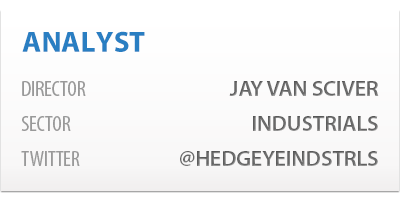 We believe FedEx has the ability to improve margins in its Express division. With a large revenue base at a near 30-year low in margins, the division could be a value driver over the next two years. Further, we see FedEx Ground as a winner in the US ground parcel market. That division offers exposure to fast growing e-commerce package volumes. Finally, FedEx Freight has been surprisingly profitable and may benefit from a rebound in US construction activity.
INTERMEDIATE TERM (the next 3 months or more)
We believe we are past the trough in FedEx Express margins. Cost improvements are already underway and the macro environment appears likely to be more supportive of express services demand. Estimates for fiscal 2014 should benefit from that momentum, in our view, and fiscal 4Q 2013 guidance may well be positive at the next report. We view an expanded network in Europe as a positive for FedEx Express, should the FDX end up acquiring TNT at an attractive price.
LONG-TERM (the next 3 years or less)
FedEx is a long-term position, in our view. Reorganizing the Express division is a slow process, in part because high service levels cannot be disrupted as adjustments are made. Cost reductions build through FY2016 and the long-run result may surprise to the upside. FedEx Ground has been taking market share from UPS in US ground parcel for over a decade, but those gains may well reach a tipping point in coming years. In our view, shares of FDX could offer 50% upside to fair value should the margin expansion at FedEx Express match its competitors'.
© 2013 Hedgeye Risk Management, LLC. The information contained herein is the property of Hedgeye, which reserves all rights thereto. It is intended for the sole use of Hedgeye and its Subscribers, and redistribution of any part of this information is prohibited without the express written consent of Hedgeye. This is presented for information purposes only and does not constitute an offer to sell, or a solicitation of an offer to buy any security. This information is presented without regard to individual investment objectives, risk parameters or suitability. This information is from sources believed to be reliable; Hedgeye is not responsible for errors, inaccuracies or omissions with regard to this information, or for any consequences that may arise from use of this information. For full Terms of Use of this information, please go to www.hedgeye.com